Eight Hundred Friends Dropping by Over the Weekend
It was Saturday morning, and the lawn at the old stage coach site was hustling and bustling with activity. A hundred people mingled as they enthused about the Six Sigma wine and food pairings. Across the road, a couple of energetic Border Collies moved small groups of sheep back and forth under the mulberry trees. History buffs and designated drivers gathered around the display that was set up to depict the pioneers who settled the land of Six Sigma Ranch.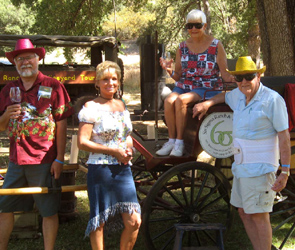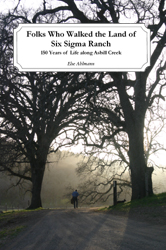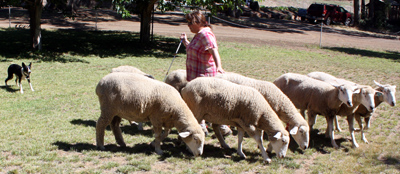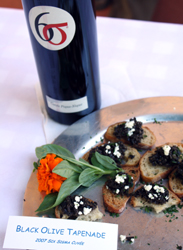 In a far corner, visitors took turns wrestling a pile of barrel staves into a perfect pot-bellied wine barrel; one young lady succeded and then there was a loud … crash! … as the bands were removed from the finished barrel and the staves fell to all sides, ready for the next person. In another corner, two dozen people were climbing onto a picturesque horse wagon, preserving the perfect KodaK moment. Just as you thought it couldn't get any livelier, a San Francisco trolley rolled in and another group of joyful guests quickly hopped off.
What was going on? Six Sigma Ranch & Winery participated in the 7th annual Lake County Wine Adventure and, during this last weekend of July, close to 800 people paid us a visit.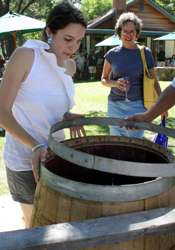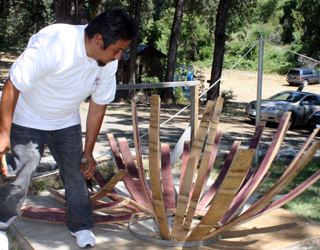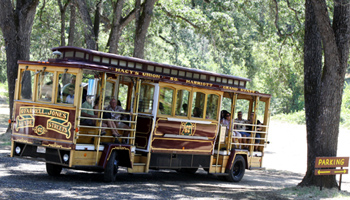 We were thrilled to see so many old and new friends, and grateful to all our helpers who made this event our best Wine Adventure ever: Madelene and her team who created delicious appetizers to go with our settler theme; Colleen who brought in her sheep and Border Collies and worked with them tirelessly all weekend; and friends, family and employees who served wine, answered questions, took photos, directed barrel building, provided decorations and props, manicured the grounds and, in general, worked to make every guest feel at home.
A heartfelt "Thank You" from
Kaj & Else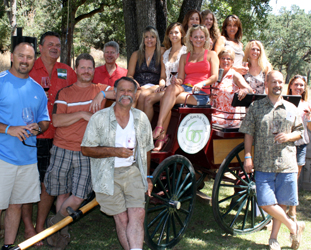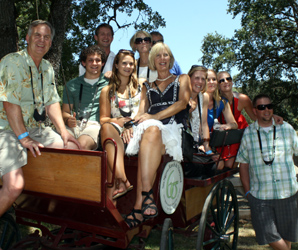 Else Ahlmann
«
June 4 Release Party Makes a Splash
|
Harvest Update: Crush Pad Video
»