Six Sigma calves
Our small herd of Black Angus cows have produced this year's crop of calves – a total of nine, including one set of male/female twins. The female twin was rejected by her mom and needed help. Jim and Bill Davis, our friends and cow experts, helped us get her jump-started on colostrum and a proteine-rich first meal. (Thank you to Bill's chickens for providing the eggs). Her name is Chiquita, by the way. She is now proficient in drinking formula out of a bottle, and she happily downs a gallon a day.
Next step is grain, and we've enrolled her in "Grain 101 – how to eat grain by hand-feeding." The main goal of this class is understanding the basics: 1) Grain goes into the mouth, not the nose. 2) Grain is not milk – no sucking required. 3) Grain is not grass – no front teeth needed to get it into the mouth. (Ouch!)
When Chiquita graduates from "Grain 201 – how to eat grain out of a bucket," she'll soon be ready to join her brother and her seven half-siblings who are having a blast in the valley.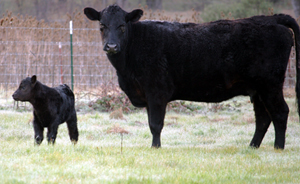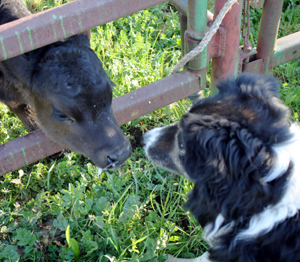 Else Ahlmann
«
There is more than one way to ostracize a ground squirrel
|
June 4 Release Party Makes a Splash
»