Do you want a goat with that?
This holiday season, Six Sigma Ranch & Winery is partnering again with World Vision, a Christian humanitarian organization that has helped children in poverty for more than 60 years. Our holiday campaign for 2012 is "Buy a case of our Pinot Noir – we'll donate a goat…" and "Buy half a case of our Pinot Noir – we'll donate two chickens…" We selected Pinot Noir because it pairs so well with most traditional holiday food. Last year the response was overwhelming, and a great number of goats and chickens found their new families. We hope to have the same success this year.
Shop for Pinot Noir with our FARM ANIMAL Donation
According to World Vision's web site:
Goats nourish hungry children and families with healthy milk, cheese, and yogurt. They are practical animals – flourishing in harsh climates while producing valuable manure to fertilize crops and vegetable gardens.
Chickens provide fresh eggs that are rich in proteins and nutrients, and extra eggs and chicks can be sold to pay for basics. They are easy to raise and will naturally multiply to impact generations of children. Each family that receives chickens is asked to give back hatched chicks to help another family in need.
As a farming family, we are thrilled to help fellow farmers get on their feet. Thank you for helping us reach out!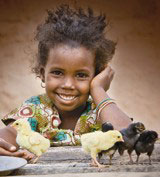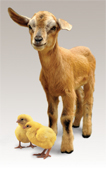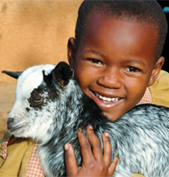 Else Ahlmann
«
Flight Night October 20, 2012
|
Hiking with 60 sheep
»